Part of my role in digital communications at a medical research institute was teaching clinicians and researchers about content production. An obvious project was born when a friend referred me an intern via the QUT Creative Industries program who was studying dual communications and nutrition science degrees. I'd been working with a dietetics clinician wanting to learn more about social media and the tools available for disseminating nutrition science and practice information both locally and regionally.
We developed a project based on an easy but popular medium – Podcasts. An audio format, downloadable to mobile devices and popular with all age groups.
We did some practice interviews, refined this into a series and set about researching and recording the episodes before I edited them into a series and uploaded to Soundcloud. You can listen to the Intern Podcast Series & others here. https://www.tri.edu.au/podcasts
Graphics
I started the project with graphics, using the corporate logo and some basic clip art to merge together the ideas of audio and science. A few stock images, some layer effects in Photoshop and a basic serif font to contrast the sans serif logo and the project had its look and feel.
This first graphics in 16:9 format are used across digital screens and social media with a variety of sizes for other platforms.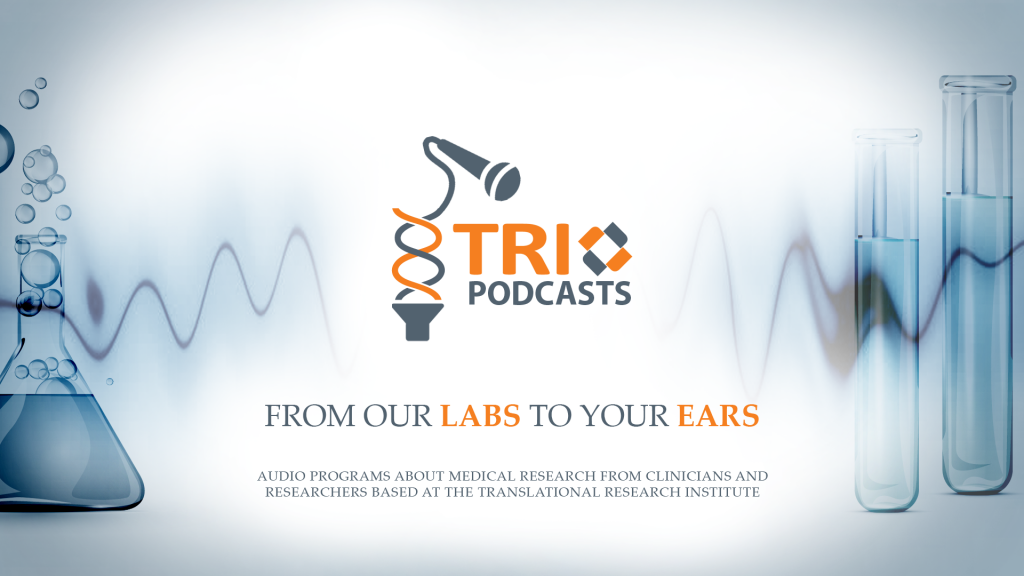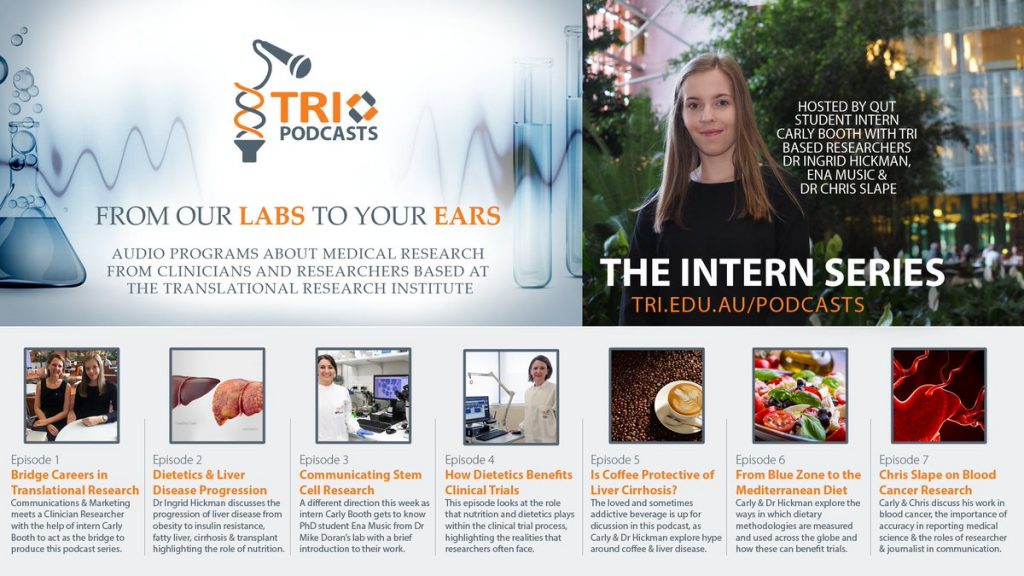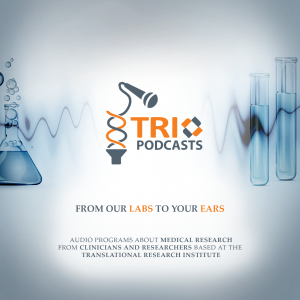 Episode – Bridge Careers in Translational Research
I recorded this interview in a small meeting room as a way of showing the interview subjects that they had nothing to be afraid of. It's just a recorder and it won't bite! If your podcast isn't very good, it probably won't get many listeners anyway right?! The audio is a bit tinny, the echo of the room obvious and our varied volumes make it a little annoying to listen to, but despite the imperfections this training exercise kicked off an entertaining and informative series. Hit play below…
Producing this series gave the intern real work experience combining their nutrition and communications training, the clinician experience at being interviewed and allowed me to practice my editing and test the various locations for their audio quality. The clinician has since gone on to record her own interviews which I have edited while the intern is completing a masters.